Personalized Service

At WMB Nutritional, we recognize that not every business needs the same things. We believe that true value comes from an individualized experience. It is this dynamic that we offer a variety of services and product options to allow you to tailor your purchasing scenario to suit your needs.
Convenience of access is a necessity in the highly competitive Nutritional and Nutriceutical industry; therefore WMB Nutritional has several conveniently located distribution points available to minimize lead times, and maximize product availability for nearly any locale in North America.
Click on the map to enlarge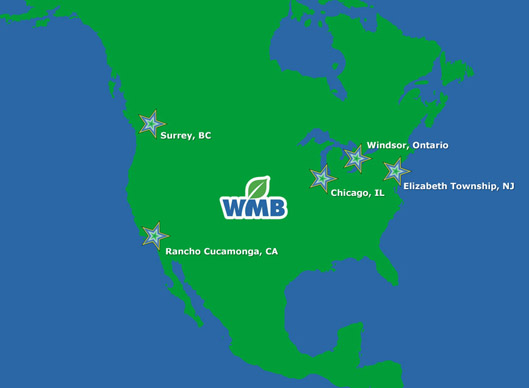 Distribution Points
Rancho Cucamonga, California
Elizabeth Township, New Jersey
Chicago, Illinois
Windsor, Ontario
Surrey, British C
olumbia
~product availability varies by location~ please inquire for details